Flat-pack Ikea refugee shelters shown constructed. In 2013, 56 prototypes were tested in UNHCR refugee camps in Ethiopia, Jordan and Iraq. Photograph: Ikea
We are celebrating human rights in the month of march in South Africa, with Human Rights day on the 21st. So this month we are looking at how Design has helped promote and protect human rights.
One of the basic human rights, is the right to shelter or housing, In South Africa, section 26 of Chapter Two of the Constitution establishes that "everyone has the right to have access to adequate housing".
Here are 8 innovative designs that help house refugees, featured on The Gaurdian in an article by Laura C Mallonee.
Refugee housing by Ikea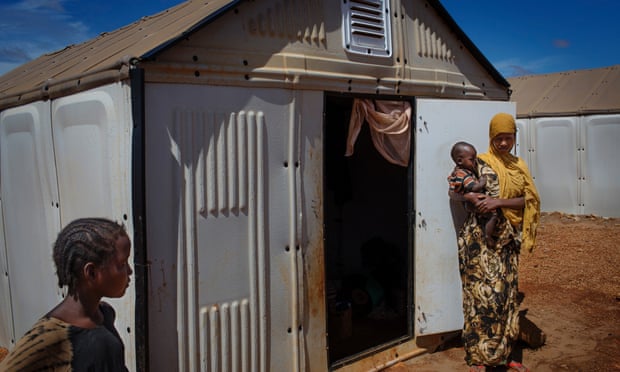 Ikea refugee shelters being put to use. Photograph: Courtesy of Ikea
Ikea's 88-square-foot transitional shelter sleeps five and comes flat-packed with a solar panel, a USB outlet and a roof screen that reflects the sun's rays while trapping heat overnight. In 2013, 56 prototypes were tested in UNHCR refugee camps in Ethiopia, Jordan and Iraq.
"Feedback from refugees has been very positive, with the designers receiving useful information," says Jonathan Spampinato, head of strategic planning and communications. Many families, for example, requested the ability to move doors and windows to face relatives and friends, or simply to increase privacy. The designers reconfigured the windows to fit on any panel section of the shelter.
The biggest challenge? Each costs $10,000, although Ikea claims that will drop to $1,000 once they begin mass production.
Exo shelter by Reaction Housing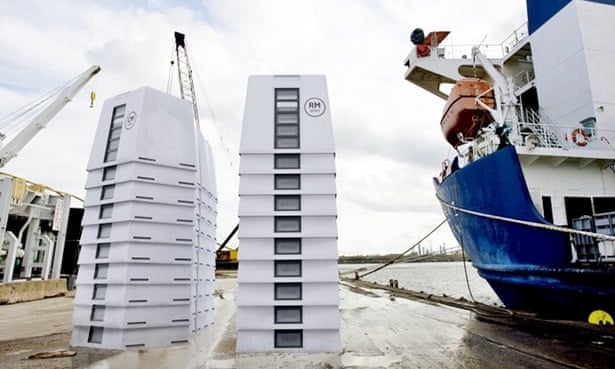 Exo units can be stacked to allow transportation in large numbers. A cargo ship holds300,000 units – enough to house more than 1 million people. Photograph: Courtesy of Exo
A Styrofoam coffee cup inspired this stackable shelter: its outer shell fastens onto a base much the way a lid snaps onto a cup. Inside the 85-square-foot space, four bunk-beds secured to the walls can be lowered for use. And since the Exo lasts up to 10 years, it only needs to be cleaned for redeployment elsewhere.
U-Dome by World Shelters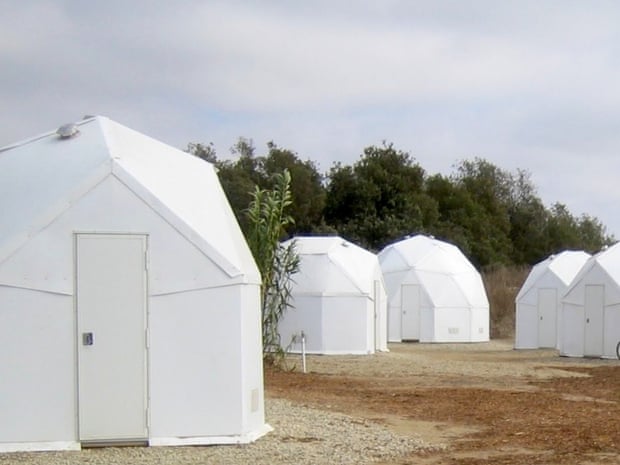 Since 2009, 24 U-Domes have safeguarded the homeless through the River Haven program in Ventura, California. Photograph: U-Dome
In the late 1970s, World Shelters founder Bruce LeBel studied with Buckminster Fuller, the renowned neofuturist architect. Following Hurricane Katrina, LeBel utilized Buckminster's modular geometry to create a weathertight, post-disaster shelter costing as little as $1,500. Since 2009, 24 U-Domes have safeguarded the homeless through the River Haven program in Ventura, California.
Global Village Shelter by Global Village Shelter, LLC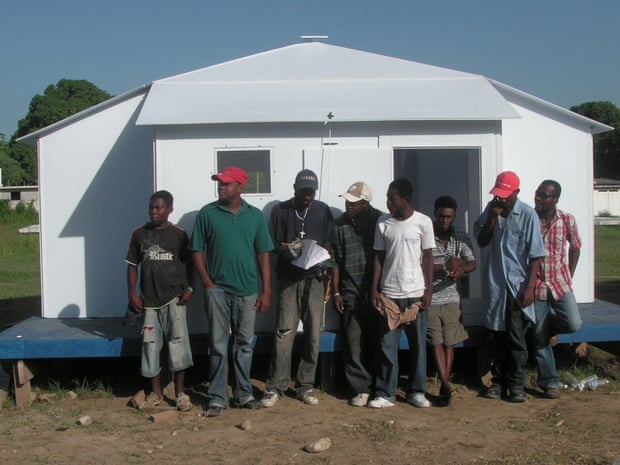 Photograph: Global Village
Thousands of Global Village Shelter's flat-packed, durable units have been deployed to Pakistan, Honduras, Guatemala, Grenada, and New Orleans – as well as MoMA's permanent collection. The coolest thing about them? Its architects, Dan and Mia Ferrara, also created a modular factory that could be shipped anywhere for on-site production, bringing each unit's $2,500 price tag down to $1000.
"Our system is the only system that is low cost, meets all international standards, can be easily shipped in containers, provides jobs for set up and manufacturing and works with local entrepreneurs," Dan Ferrara says.
HuSH2 by Extremis Technology
Built especially for hurricane-prone areas, the HuSH2 only needs to be unfolded and bolted together to shelter a family of five. When a storm rolls in, the wooden unit can be reconfigured into a triangle that protects against Category 5 winds.
Intershelter by Intershelter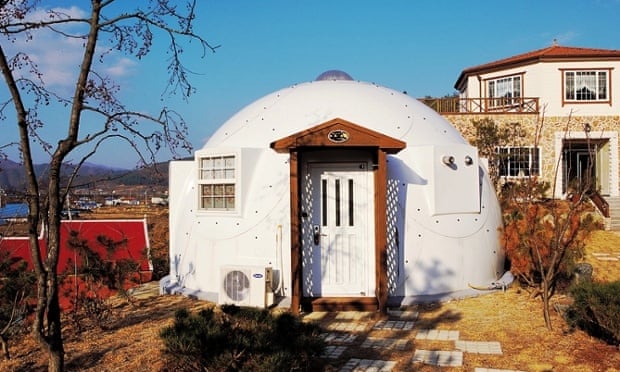 An Intershelter refugee shelter constructed in Japan. Photograph: Intershelter
Before assembly, the Intershelter looks like a stack of Pringles potato chips. But when put together, its circular shingles form a 196-square-foot dome that can hold up under 200-mile-per-hour winds and 40 feet of snow.
"There's something about a dome that is very comforting," says Don Kubley, CEO of Intershelter. "You can't be cornered."
Rapid Deployment Module by Visible Good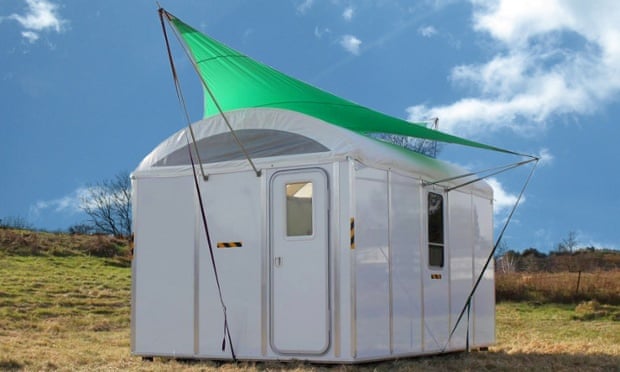 Photograph: Rapid Deployment Module
Visi ble Good set up five of its insulated, lightweight shelters in Oklahoma after a tornado wiped out part of the town of Moore in 2013, and is also developing a version for the US military. "We got into the business for humanitarian purposes, but this is the only blueprint that is going to get us there," founding partner Tina Newman says.
This article has been edited and condensed for the DI, original here on The Gaurdian